Delta Systems, Checkered Flag Teams, and the Stock Car Pit Crew Challenge are collaborating to bring a new, exciting teambuilding program to your organization.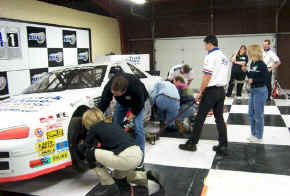 At last, the Pit Crew Challenge, a teambuilding program that trains a team to work together and then tests their ability to continuously improve performance in a unique and exciting environment.
The Pit Crew Challenge is a stimulating training program that incorporates a proven teambuilding program with a hands-on teamwork activity to test the ability of the team members to work together. You will learn and practice the techniques for a successful pit stop. The friendly competition among teams challenges each team to achieve greater success each time.
This unique program includes a 3-hour teambuilding seminar with training materials plus the pit crew exercise.
What a great way to improve both your corporate effectiveness and your bottom line!
Join us for the most rewarding teamwork experience available anywhere!
Optional in-depth teambuilding consultation is available to ensure transfer of training to your workplace.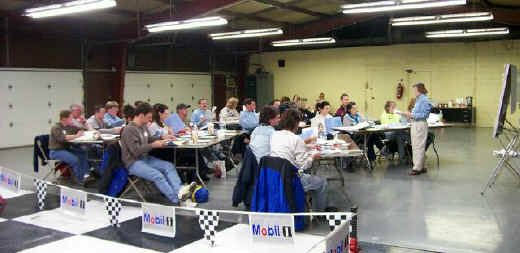 Pit Crew Challenge Seminar (half-day program)
Your team will receive:
An autographed copy of Checkered Flag Teams: Driving Your Workplace Into the Winner's Circle and other training materials

Training Certificate

Participate in a 3-hour teambuilding seminar (materials included)
Click here for a printable version of a Typical Agenda.
Call or email us for pricing and additional options
Click here to see our pit crews in Action.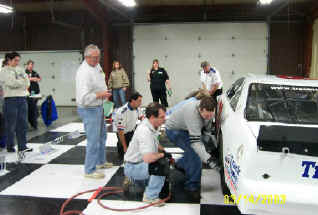 Our Instructors:
It was the experience of driving Rusty Wallace's car at Michigan International Speedway that convinced Renée Merchant of the importance of teamwork in all types of business. Renée works with people who want a faster way to build their team and team leaders who want to jump-start stalled teams. She has provided teambuilding consultation to Fortune 500 organizations, such as General Motors, Ford Motor Company, NEXTEL, Michelin Tire, TENNECO Automotive, and Pfizer, for 25 years. She is the author of Checkered Flag Teams: Driving Your Workplace Into the Winner's Circle, and CARStyles™ Communication Style Model.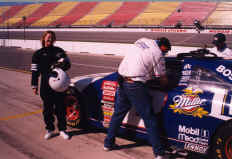 Dick Merchant is a retired automotive engineering manager and a contributor to Checkered Flag Teams: Driving Your Workplace Into the Winner's Circle. He walks the talk of teamwork, and brings his corporate experience to training participants.
Stock Car Pit Crew Challenge Instructors—many of them experienced auto racing competitors—have coached and trained for many years in both stock cars and Formula 3 vehicles. Their chalk-talks provide the information you and your team need to take full advantage of the challenges of the workplace.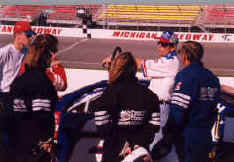 For additional information contact Renée Merchant at 517-592-5463 or email us at renee@4deltasystems.com.

Please visit our partners at Stock Car Pit Crew Challenge to learn more about offerings!
Top of Page
Back to Consulting and Training Programs

Home Page

For more information, contact us at: Delta Systems 5621 Somerset Drive Brooklyn, Michigan 49230 Tel/Fax (517)592-5463
renee@4deltasystems.com