The Life Challenge Inventory is a self-administered and self-interpreted assessment of personal habits and situations that may contribute to increasing stress in an individuals life. Trainers and Counselors have found that the Life Challenge Inventory enables individuals to focus on changing non-productive situations and personal patterns which contribute to disabling stress.
The Life Challenge Inventory measures 16 separate categories of stress-inducing habits and situations -- indicating areas where an individuals normal coping skills may be inadequate. When an individual has answered the 160 questions and drawn a personal Life Challenge Profile, it is easy to see where that person needs to build new habits or skills. Strategies and references are provided based on individual need.
The Life Challenge Inventory can be used by individuals privately or as part of a training session on stress management, life planning, or change leadership process. Periodic re-administration is helpful to show areas of personal growth. Reproducible forms are provided.

Administration time: 15-20 minutes.
Profiling: 10 minutes
Discussion and interpretation: one hour
Renée R. Merchant is a certified facilitator for The Life Challenge Inventory.
For more information, contact us at (517) 592-5463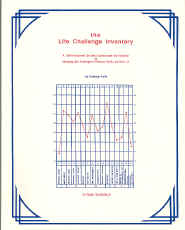 Top of Page
Back to Assessment Instruments
Back to Consulting and Training Programs

Home Page

For more information, contact us at: Delta Systems 5621 Somerset Drive Brooklyn, Michigan 49230 Tel/Fax (517)592-5463
renee@4deltasystems.com